A travelling exhabition made by the Reiss-Engelhorn-Stiftung.

The mother bear is 110 cm at the shoulders and the standing cub is 130 cm high.

2014

12 weeks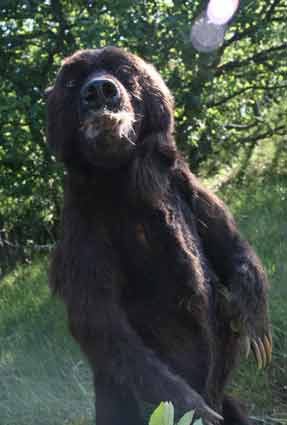 For the information about the fur and colouration of this fur I used cave paintings. I strongly feel that the people that made these paintings did have a good look at the animals they knew fron there day to day life . These images are used on the cave walls. I see no reason why they wanted to alter the apperance of the animals when they dipict them. Especially if they did not have a idea that in other time,and places, the animals looked different.

Also in this case the scientific guidance is done by Mr. Dick Mol.
I used a skull cst made by BoneClones,
Animal anatomy for artists - E. Goldfinger,
Grosse tieranatomie - Gottfried Bammes,
Der Høhlenbar - door G.Rabeder/D. Nagel en M. Pacher,
Kleine encyclopedie - D.Mol, j. E Vos, R.Bakker ea,
Bears - Erwin A. Bauer,
Bear - Doug Lindstarnd,
Bears - Matthias Breiter,
Les Ours - Kiki Marmori,
De beer - Anderas Kieling,
Mountain Bears - Wayne Lynch,
Portraits D'Ours - Jill Greenberg,
Journey through the Ice Age - Paul G. Bahn,
De grot Chauvet - J Chauvet, E. Brunel ea,
Return to Chauvet cave - J Clottes.
National geographic artikles,
Internet data and own studies of bones and casts.